Kismet
(Part of the Totally Five Star collection)
Jasmine Hill
BUY LINK
Tanvi Sharma has always lived life carefully. What has she done then, to deserve the sentence her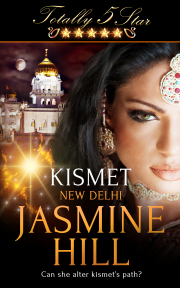 family has subjected her to? What cruel form of kismet has intervened so drastically to change her life, as she knows it?
Working as a contracted accountant to the Totally Five Star, New Delhi offers Tanvi a little solace and removes her from the stifling environment of her father's business. But she knows it's only temporary. Soon she has to accept her fate and agree to the marriage her parents have arranged for her, to a man she despises.
She's all but resigned to her ominous future when a smouldering look from a handsome businessman starts Tanvi's juices flowing and she allows herself to fantasize about a relationship that could never work. But would a short-term affair be so wrong? Perhaps a no strings attached fling with a handsome stranger is just what she needs before entering into a loveless, passionless union.
When Australian businessman, Alexander Banks spots Tanvi in the hotel restaurant, the exotic and aloof creature immediately intrigues him. Alex, never one to shirk from a challenge, quickly learns that he has his work cut out for him if he wants to get closer to the reserved, beauty.
Alex soon realizes that cultural differences and long held traditions are obstacles greater than he could ever envision and light years away from his Western rational. Just when he expected that a relationship with his Indian beauty might be going somewhere, someone else has other plans and the Totally Five Star hotel becomes a dangerous and risky place for them to be.
EXCERPT"He is sooo hot!" Riya loud-whispered, fanning her face theatrically. "And he's obviously into you."
Tanvi glared at her friend. "Will you keep your voice down!"
In truth, Tanvi couldn't understand why the man seemed so interested in her, particularly when she was sitting with Riya, who looked amazing in wide-legged, navy linen pants cinched tight at the waist and a white silk blouse.
She surreptitiously studied the man from under lowered lashes as she picked at the fruit on her plate. He was really attractive. He definitely took care of himself and she imagined he'd be using the hotel's gym facilities on a daily basis. Even under his blue dress shirt she could see the definition in his arms and chest and, when he moved, his shirt strained slightly around his broad shoulders. When she'd looked directly at him on her way back from the breakfast buffet, she'd immediately noticed his blue eyes, piercing ice-blue, which were slightly intimidating. He had a scar dissecting his right cheek but, rather than marring what could have been considered a beautiful face it gave him a sexy and dangerous edge. She'd barely been able to contain her shudder of awareness as she'd walked by him. She took another quick peek across at him and decided that he swam a lot—his muscular shoulders and sun-streaked brown hair indicated that he spent time outside and in the water.
Tanvi glanced across at Riya, who was ogling the man blatantly. "Look at that hard jaw!" she whispered. "He just seems so…so masculine."
Tanvi rolled her eyes. "You've been watching too many Hollywood movies."
"Well, that man could have stepped directly out of a movie set where he's the sexy, brooding hero," Riya breathed with exaggerated awe. "He has alpha male written all over him."
Tanvi laughed. "And what do you know about alpha males?"
"What don't I know? You're aware that I'm hardly a blushing maiden." She smirked. "And I've read quite a bit of erotica and, you know, we have some good erotic authors here in India?"
ABOUT Author Jasmine Hill
Jasmine was born in Australia and grew up in Sydney. She currently lives in Madrid, Spain with her husband. She adores reading all genres but in particular she enjoys erotic romance novels and thrillers. Jasmine loves writing and is always looking for new ideas for stories that will provoke inner passions, stimulate the senses and ignite the imagination. Her interests include cooking, traveling, yoga and skiing. She has won some short story competitions and is now excited to have started publishing her erotic romance stories through Totally Bound Publishing.
Website: www.jasminehillromance.com
Facebook:https://www.facebook.com/jasmine.hill.585112
Pinterest: https://es.pinterest.com/jasminehillroma/
Amazon: amazon.com/author/jasminehill
Goodreads: www.goodreads.com/author/show/7232824.Jasmine_Hill
Twitter:https://twitter.com/jasmine_romance