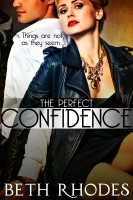 The Perfect Confidence
by
Beth Rhodes
Contemporary Romance
Easy-going con man, Dominic Foster is ready to get out of the game, buy his old family home, and settle down. He just needs the cash promised to him by an old buddy. Unfortunately, the woman holding his money is leading him on a chase.
The daughter of a con man, it's the only life Heather Slate has ever known. Now with her father dead, she's set on revenge against the man she holds responsible, gorgeous Dominic Foster—the object of her old, school-girl crush. After avoiding him for months, she is finally ready to exact her revenge. But after meeting him, she realizes things are not as they seem.
Both live in a world of lies where trust does not come easily. But it's trust they need most when a winter storm has them stranded in Dominic's small home town. Can the trust they find lead them to love and a new beginning for them both?
"This was a very short sweet read! I loved both main characters. Heather and Dominic seemed to click very early on which was great as the book is very short. They were very passionate about their families and doing the right thing. Both of them gave as good as they got. I thoroughly enjoyed the story line; it was different to what I have read before. A wonderful easy read. 5 stars!"
REVIEWED FOR SARAH & KIRSTY'S BOOK REVIEWS
ABOUT Beth Rhodes
It's no wonder Beth writes romance. Married to her best friend for fourteen years, they have five kids and still manage to find things to do together, to laugh at and make fun of... life is good. Love is the center of their life, and Beth is inspired by it everyday.
She is a Member of Romance Writers of America, Pikes Peak Romance Writers, International Thriller Writers, and Passionate Critters Critique Group.