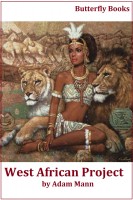 West African Project
Adam Mann
Erotic Contemporary Romance
Butterfly Books
If you've ever fancied working in remote parts of the world, you must read this:
Ivan wins a contract to work in the Hadejia River Valley, as agricultural advisor. He finds the Project Director easy to work with and his widowed daughter lovely to look at and to look after him! This book is based on a true story in West Africa, not in the steamy coastal area but in the dry semi-desert plains in the north. Ivan learns to speak the local language and finds that the farmer families in the villages good to work with. He has the support of the project director, Mustapha, and finds his widowed daughter attracted to him. The project has many twists and turns over the twenty year period, but manages to survive through wholesale fraud, corruption and contradictory government legislation, and manages to improve the incomes of the farmer families.
EXCERPT
One of Mustapha's daughters was about the same age as his youngest wife, and I often noticed the two chatting, or working together. Her name was Aisha and she was a widow, I was told, and amazingly she spoke a little English.
After her husband had died she had returned to her father's house. She did not have any children, which made her sad, and she just took her place in the family. I had no idea where she slept, or indeed where any of the ladies or servants slept.
Mustapha had his own room, and I can only presume he was joined by one of his wives from time to time! I had never been in his room until he grew weak and eventually died.
I was given a small but very comfortable guest room, not so far from Mustapha's room, which had a wide trestle bed and a small cupboard, and a table with a wash hand basin, and a small mirror on the wall. There was a room to bathe in at the back of the house, but no running water.
But my room was always nice and cool.
I left every morning to go to work, and when I came back in the evening my room was all clean and tidy, and my laundry washed and folded on top of the cupboard, and clean water in a jug.
Aisha had appointed herself my caretaker, I found out later.
The building work on my house was progressing but only slowly, although steadily and I would often stop to check on dimensions. I had decided to build a house with some local aspects.
ABOUT Adam Mann
Adam Mann has lived and worked in Africa and Asia for many years. He has always been fascinated by personal relationships, and in real life is now enjoying his fourth marriage, after being widowed, divorced, had one marriage annulled as this 'wife' had forgotten to get divorced. As a result he has extensive experience of social and sexual activities, which he brings into all his books in explicit detail. Underlying all these activities is a quest for a loving and ongoing relationship with his partner.
Two novels have been based in Africa. Adam now lives in Vietnam, and has written eight romance books, all based in Asia, and his last two based in Europe and Canada.
CONNECT with Adam Mann