Life as an author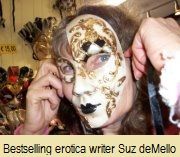 "After an author's first sale, she generally leaps to the conclusion that a thriving professional career is assured. Not so. I don't know quite why, but my first editor (at Kensington/Zebra) treated me as though I was a smallpox carrier despite the book's success—it sold out its print run, garnered great reviews and earned an award for the best historical romance of its year.
I found an agent and although she wasn't very good at what she did, I managed to sell a book to Silhouette Romance, a line that folded a few years later (that was one reason she wasn't good at what she did). Three more books to SilRom followed before the line shut down.
This was a very difficult part of my life. My father had died after a two-year bout of cancer. My marriage and my career were falling apart. My eldest brother was diagnosed with stage four cancer and one of my dearest friends committed suicide.
My writing tanked.
I'd sold four books and had written about eight additional manuscripts that my critique partners and my then-agent (different from the first) told me were wonderful. But they didn't sell, and I didn't know why. Still don't.
The stress from the life-changes and the rejections gave me a writers' block so heavy that most days I can't write anything. Since then, I've published unsold manuscripts and struggled to eke out more words but believe me, it's not easy.
And then what happened?
I hit the road. They say that "When the going gets tough, the tough get going." After my brother died—a whole saga in itself—I got going. I went all the way through Europe to Thailand, where I finally gained a measure of peace and a great deal of self-knowledge.
I learned that I don't need very much. Big houses don't do it for me. I lived in a room about 15x15 feet and was perfectly happy. I didn't need a car, which made life even easier. I discovered that I don't need a husband or a conventional life.
And I started writing again.
My friends had been telling me, "Write erotica for the online market. It's booming!"
So I did. I took all my old manuscripts that hadn't sold and revised them for the erotic romance market. They sold.
I'm back in California, and since I started my first simple boy-meets-girl manuscript in 1996, I've written seventeen complete novels—about one every year—plus a number of short stories and articles on writing. Though it's still a challenge, my writer's block isn't as crushing as it once was.
But, being American, I'm an optimist.
And, being British, I maintain a stiff upper lip and carry on. "

Author Bio
"Best-selling, award-winning author Suz deMello, a.k.a Sue Swift, has written seventeen romance novels in several subgenres, including erotica, comedy, historical, paranormal, mystery and suspense, plus a number of short stories and non-fiction articles on writing.
A freelance editor, she's held the positions of managing editor and senior editor, working for such firms Total-E-Bound, Liquid Silver Books and Ai Press. She also takes private clients.
Her books have been favorably reviewed in Publishers Weekly, Kirkus and Booklist, won a contest or two, attained the finals of the RITA and hit several bestseller lists.
A former trial attorney, her passion is world travel. She's left the US over a dozen times, including lengthy stints working overseas. She's now writing a vampire tale and planning her next trip."
Links
"--Find her books at http://www.suzdemello.com
--For editing services, email her at suzdemello@gmail.com
--Befriend her on Facebook: http://www.facebook.com/sueswift, and visit her group page at https://www.facebook.com/redhotauthorscafe
--She tweets @Suzdemello
--Pinterest: http://www.pinterest.com/suzdemello/
--Goodreads: http://bit.ly/SuzATGoodreads
--Her current blog is http://www.TheVelvetLair.com
Favorite Quote
Why did Rick the number-cruncher have to be so pussy-clenching, nipple-hardening, clit-wetting, squirm-inducingly sexy?
Latest

Release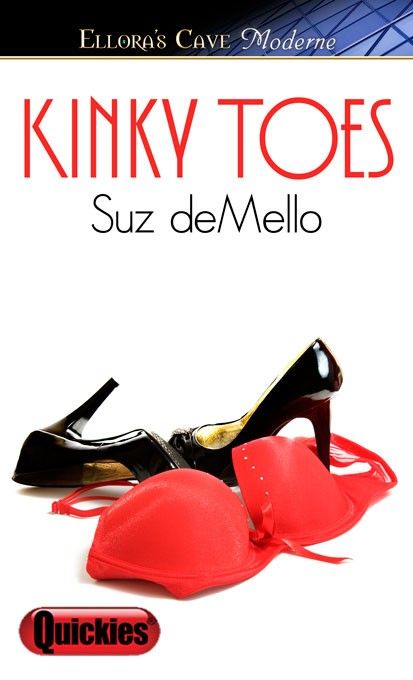 Kinky Toes
erotic romance
heat level: 3
Ellora's Cave
Blurb:
Shelbie Nathanson resents Rick Saldano's ascension to C.O.O. of her family's shoe company, a job she's wanted all her life. But she can't resist his red-hot, sexy style of lovemaking... one that focuses on her passion: shoes."
Give Away
free copy of new release
Make sure to comment for a chance to win.